简单的英文自我介绍范文集合8篇
  当来到一个陌生环境中,我们总归要向他人介绍自己,自我介绍是认识自我的手段。那么什么样的自我介绍才合适呢?下面是小编整理的简单的英文自我介绍8篇,仅供参考,希望能够帮助到大家。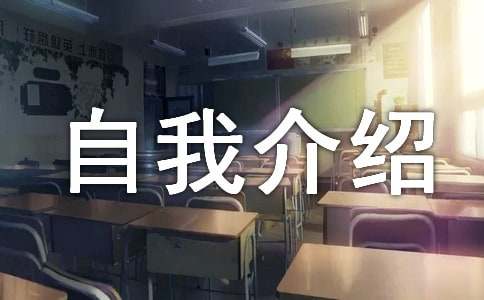 简单的英文自我介绍 篇1
  Hello,everyone!(大家好!)My name is 。。(我的名字是。)I am 。yearsoId。(我。岁)I am a optimistic 。。。(我是一个开朗的,)My study is good(我成绩优秀),and I am get along very well with my classmates。(并且我同我的同学们相处得很好)I have many hobbies。(我有许多爱好)I like listening to music and reading books,(我喜欢听音乐和看书)but I like English best。(但是我最喜欢英语)I hope everybody to like me。(我希望大家能喜欢我)

  Thank you!)
简单的英文自我介绍 篇2
  General Introduction*
  I am a third year master major in automation at Shanghai Jiao Tong University, P. R. China.
  With tremendous interest in Industrial Engineering, I am writing to apply for acceptance into your Ph.D. graduate program. Education background In 1995, I entered the Nanjing University of Science & Technology (NUST) -- widely considered one of the China's best engineering schools.
  During the following undergraduate study, my academic records kept distinguished among the whole department. I was granted First Class Prize every semester, and my overall GPA(89.5/100) ranked No.1 among 113 students. In 1999, I got the privilege to enter the graduate program waived of the admission test. I selected the Shanghai Jiao Tong University to continue my study for its best reputation on Combinatorial Optimization and Network Scheduling where my research interest lies. At the period of my graduate study, my overall GPA(3.77/4.0) ranked top 5% in the department. In the second semester, I became teacher assistant that is given to talented and matured students only. This year, I won the Acer Scholarship as the one and only candidate in my department, which is the ultimate accolade for distinguished students endowed by my university. Presently, I am preparing my graduation thesis and trying for the honor of Excellent Graduation Thesis. Research experience and academic activity When a sophomore, I joined the Association of AI Enthusiast and began to narrow down my interest for my future research. In 1997, I participated in simulation tool development for the scheduling system in Prof. Wang's lab.
  With the tool of OpenGL and Matlab, I designed a simulation program for transportation scheduling system. It is now widely used by different research groups in NUST. In 1998, I assumed and fulfilled a sewage analysis & dispose project for Nanjing sewage treatment plant. This was my first practice to convert a laboratory idea to a commercial product. In 1999, I joined the distinguished Professor Yu-Geng Xis research group aiming at Network flow problem solving and Heuristic algorithm research. Soon I was engaged in the FuDan Gene Database Design. My duty was to pick up the useful information among different kinds of gene matching format. Through the comparison and analysis for many heuristic algorithms, I introduced an improved evolutionary algorithm -- Multi-population Genetic Algorithm. By dividing a whole population into several sub-populations, this improved algorithm can effectively prevent GA from local convergence and promote various evolutionary orientations. It proved more efficiently than SGA in experiments, too. In the second semester, I joined the workshop-scheduling research in Shanghai Heavy Duty Tyre plant. The scheduling was designed for the rubber-making process that covered not only discrete but also continuous circumstances. To make a balance point between optimization quality and time cost, I proposed a Dynamic Layered Scheduling method based on hybrid Petri Nets. The practical application showed that the average makespan was shortened by a large scale. I also publicized two papers in core journals with this idea. Recently, I am doing research in the Composite Predict of the Electrical Power system assisted with the technology of Data Mining for Bao Steel. I try to combine the Decision Tree with Receding Optimization to provide a new solution for the Composite Predictive Problem. This project is now under construction. Besides, In July 20xx, I got the opportunity to give a lecture in English in Asia Control Conference (ASCC) which is one of the top-level conferences among the world in the area of control and automation. In my senior year, I met Prof. Xiao-Song Lin, a visiting professor of mathematics from University of California-Riverside, I learned graph theory from him for my network research. These experiences all rapidly expanded my knowledge of English and the understanding of western culture.I hope to study in depth In retrospect, I find myself standing on a solid basis in both theory and experience, which has prepared me for the Ph.D. program. My future research interests include: Network Scheduling Problem, Heuristic Algorithm research (especially in GA and Neural network), Supply chain network research, Hybrid system performance analysis with Petri nets and Data Mining. Please give my application materials a serious consideration. Thank you very much.
简单的英文自我介绍 篇3
  Please allow me to introduce myself fou you. My name is xx, my 20-year-old, was born in Qinghai Province. Very honored to have this opportunity to come here to interview. Now I will briefly introduce themselves.
  I graduated from the Qinghai first vocational schools.
  My specialty is computer software applications.
  In the past year I have the basic expertise. I like reading books, watching movies, listening to music, and so on. I think I am an honest and optimistic, can also work under great pressure. This is probably, thank you.
简单的英文自我介绍 篇4
  I come from ******,the capital of *******Province。 I graduated from the ******* department of *****University in July ,20xx。In the past two years I have been preparing for the postgraduate
  examination while I have been teaching *****in NO。****middle School and I was a head—teacher of a class in junior grade two。Now all my hard work has got a result since I have a chance to be interview by you 。 I am open—minded ,quick in thought and very fond of history。In my spare time,I have broad interests like many other youngsters。I like reading books, especially those about *******。Frequently I exchange with other people by making comments in the forum on line。In addition ,during my college years,I was once a Net—bar technician。So, I have a comparatively good command of network
  application。I am able to operate the computer well。I am skillful in searching for information in Internet。I am a football fan for years。Italian team is my favorite。Anyway,I feel great pity for our country's team。 I always believe that one will easily lag behind unless he keeps on learning 。Of course, if I am given a chance to study ****** in this famous University,I will stare no effort to master a good command of advance ******。
简单的英文自我介绍 篇5
  Hi everone,my name is ***,I am ** years old this year.I study in class ** of the ** school.I am a optimistic person. I often helping each other to classmate,we study together and improve together. We live in the same class collective, we are like the brothers and sisters each other. There are a lot of my interest,example:reading,watching at the film,play by ancient Zheng and so ons.....I especially like watching at the animation, particularly watching Japanese animation,the animation which I like is.
  This is about me,what do you thing?
简单的英文自我介绍 篇6
  我叫xxx来自美丽的"江北水城"-聊城。如今就读于孔子故里-曲阜师范大学。我的性格沉稳,同时又不失开朗。善于交朋友,广交朋友。
  我的爱好广泛:听音乐,摄影,玩电脑,当然最喜欢的还是体育锻炼,篮球乒乓球,足球等等,这也是我为什么选择体育专业的原因。
  现在在大学的我,想在大学里好好读书,并积极参加学校活动偶尔去做兼职工作。
  对于未来,四年后或许会延续我的专业,利用专业知识找工作,或许我会选择自主创业。 总之,我会用自己的双手和能力创造无悔人生。
  My name is xxx from beautiful "jiangbei city"-liaocheng. Now study in hometown of Confucius-qufu normal university.
  My personality stable, also do not break again cheerful. Good at making friends, make more friends.
  My hobby is widespread: listen to music, photography, playing computer, of course, the most like or physical exercise, basketball, ping pong, football, and so on, this is why I choose the cause of professional sports.
  Now in college, I want to in the university study hard, and actively participate in school activities and occasionally to do a part-time job.
  As for the future, after four years I may continue my professional, use
  professional knowledge to find work, perhaps I will choose my own business.In a word, I will use my hands and ability to create life without regret.
简单的英文自我介绍 篇7
  I am open-minded, willing and have broad interests like basketball, reading and especially in engineering such as software programming, website design, hardware design. For example, during the past four years, I have accomplished two websites: one is the website of our school, and the other is the website of the doctor forum of china 20xx. Furthermore, I am interested in C plus plus programming language and have written some application programs. In July in the last year,I finished my graduate project with flying colors,which was a software application about Image Process . In addition, I have also finished some projects about embedded system by using MCU when I was a junior.
  Although I have broad interests in many aspects and grasp the essential knowledge of the major, but I think at present, I can do many things in a superficial level, but not be competent to do things professionally owing to lack of ample knowledge and ability. So I think further study is still urgent for me to realize self-value.
  The major that I hope pursue for my further education is IC design. Because I find integrated circuits are playing a more and more important role in our modern society. And nowadays in China, with the recognition by the government, our domestic integrated circuits industry is growing rapidly and that may provide a lot of chances to us.
  I plan to concentrate on study and research in this field in my graduate time. And I hope I can form a systematic view of micro electronics and IC design technology and make a solid foundation for future profession after three years study here.
  OK, that's all. Thank you very much.
简单的英文自我介绍 篇8
  Everybody is good, you know me? My name is XXX. I am a student of a newly entering middle school gate, with a number of new students, I took my curious and have a strong curiosity heart came to the palace of the divine.
  My character is a persistent pursuit, beautiful ideal, want to put the world's good thing for your own. I don't like to go other vulgar, been to life as the others. I want to pursue their own personality, dropping his own ace, do the most true to yourself!
  I, proactive. Small I is a drop of dew, but I am unwilling to lag behind, life commonplaces doing nothing. Every time the examination results came out, I will tell oneself, must strive to win the next good result. I have been to her sister as the benchmark, I don't believe that I can't go beyond her, I must be stronger than her. Beyond others, is the strength, by efforts. I will study hard, even the strength!
  Although my appearance is not beautiful, but I have a good ideal, the ideal is my pursuit of the goal of forever. I believe that hidden in the heart of every man in his own a dream, if you don't dream your life would not be complete. Let's work for his dream to struggle, struggle! Let's cheer for yourself! Although I don't know will have a dream that one day, but I still look forward to that day, I'm sure I will. Come on!
  I was a naive, naive, full of imagination, all day live in a fairy tale world, little girl. This is me, I will do the most true to yourself!
  大家好,你们认识我吗?我叫xxx。我是一个刚迈入中学大门的学生,与众多新生一样,我带着充满好奇和有着强烈求知欲望的心来到了神圣的'殿堂。
  我的性格是有着执着的追求,美好的理想的,想把全世界的好东西占为己有。我不喜欢去走别人庸俗的老路,去过和别人一样的生活。我要追求自己的个性,亮出自己的王牌,做最真实的自己!
  我,积极进取。小小的我是一滴露珠,但我不甘落后,一生庸碌无为。每次考试成绩一出来,我就会告诉自己,一定要努力争取赢得下一次的好成绩。我一直以姐姐为标杆,我不相信我不能超越她,我一定要比她还要强才行。超越别人,凭的是实力,靠的是努力。我一定会努力学习,充饥实力!
  虽然我的容貌并不漂亮,但是我有一个美好的理想,这个理想是我永远追求的目标。我相信每个人在自己的心中都藏着一个梦想,如果你没有梦想你的人生就不会完整。让我们为了自己的梦想去努力的奋斗、拼搏!让我们为自己加油吧!虽然不知道会不会有实现梦想的那一天,但我依然期待着那一天的出现,我相信会的。加油!
  我就是一个幼稚、天真、充满想象力,整天活在童话世界里的小女孩。这就是我,我就要做最真实的自己!
【简单的英文自我介绍范文集合8篇】相关文章:
成人简单英文自我介绍范文06-23
学生简单英文自我介绍范文06-19
成人简单英文自我介绍06-23
简单的英文自我介绍8篇01-05
出彩的英文自我介绍范文06-23
简单的面试自我介绍范文集合7篇10-14
简单的面试自我介绍范文集合3篇10-04
简单的英语自我介绍范文04-26
英语的自我介绍简单范文01-18
考研英文自我介绍范文07-12