英文短篇励志文章(通用6篇)
  只有励志地面对生活,面对人生,才不会那么轻易地别困难所打倒。下面就是小编给大家整理的英文短篇励志文章(通用6篇),希望大家喜欢。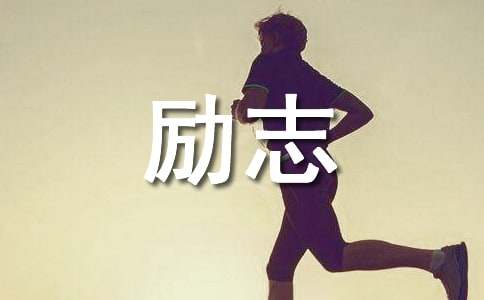 英文短篇励志文章 篇1
  You are where you are.Accept it and feel the power your acceptance gives you to move forward.
  你就处在这样一个位置。接受这个事实,感受随之而来的力量,这份力量会驱使你前进。
  This moment is as it is.Accept its uniqueness and experience the freedom of not having to fight against it.
  此刻就是这样。接受这一刻的独特性,体验无需与之对抗的自由。
  There are difficult challenges in your life.Accept them and feel the energy that will enable you to rise above them.
  你的生活中充满了艰巨的挑战。接受这些挑战,鼓足勇气去战胜它们。
  Accept that this is your starting point.Instead of placing judgements on it,see the real,positive value that's already yours.You cannot change where your past priorities* and choices have brought you.Yet you can make use of the wisdom you've earned to create a future that fulfils your most treasured dreams.
  相信此刻就是你的起点。无需再判断,看到你所具备的真正意义上的价值。你过去认为重要的事和以前做过的选择给你带来了什么都是无法改变的。然而你可以充分利用你的智慧去创造未来,实现你最珍爱的梦想。
  Lovingly and gratefully accept who you've been,what you've done,what you have and where you are.For you can now transform it all into what you most wish to be.
  满怀爱心和感激之情,接受现实的自己,接受你所做过的、你所拥有的以及你所处的位置。现在你可以按你的愿望去改变它们。
  英文短篇励志文章 篇2
  Don't allow your troubles to get the best of you.Instead,allow those troubles to make the best of you.
  不要被烦恼击败,相反,要让这些烦恼磨练出更优秀的你
  Don't tire yourself out fighting against the challenges.Instead,find new energy by embracing1 those challenges and working through them to create real value.
  不要因与挑战作斗争而身心疲惫,相反,要在接受挑战、战胜挑战的过程中找到活力去创造真正的价值。
  Always remind yourself that discour-agement is nothing more than a response you've chosen.When you find that you've chosen to let it be,you can just as surely choose to let it go.
  时常提醒自己,气馁只不过是你自己的选择。当你发现是你选择了气馁,你当然也可以选择不这样。
  Replace discouragement with determin-ation.It is your life's energy,and you can point it in whatever direction you choose.Your most powerful response is not based only on what has already happened.Your most powerful response also takes into account what you wish to make happen next.
  用决心消除气馁,这就是你生命的活力,是放之四海而皆准的。你最有力的反应不仅仅受所发生的事情的影响,而且与你期待发生的事情有一定关联。
  Look forward,and envision in great detail the future you desire.Then gather all your energy,and step forward to make it be.
  向前看,详尽地展望你所期盼的未来。然后集中你所有的精力,努力前进,让梦想成真
  英文短篇励志文章 篇3
  Life is not about just getting by.Life is about reaching ever higher,building one achievement on top of another,and creating real,meaningful value in each moment.
  生活并不是过得去就行,而是需要我们每时每刻都有所超越,不断取得成就,并且创造真正的、有意义的价值。
  A common stone on the ground does a great job of just getting by.You,on the other hand,are destined1 for much more spectacular things.Yes,indeed,you will certainly meet a number of challenges when you make the effort to raise your world even a little bit higher.The good thing is,you are superbly equipped to thrive on those challenges.
  地上的一块普通的石子只是躺在那里就做得很好了。然而,你注定是要做大事的。是的,当你努力提升自己时,你的确会遇到许多困难,哪怕只是提升一点点。幸运的是,你有能力战胜那些挑战。
  If life seems unsuccessful,it's not because of the challenges or limitations that stand in your way.It's because you refuse to see the exceptional opportunities that those challenges represent.
  如果生活看起来并不是一帆风顺的,那并不是因为你前方的道路上有挑战或阻碍,而是因为你没有看到那些挑战中蕴藏的良机。
  This is your precious and unique life,and it is absolutely worth all the trouble and effort you must go through to make it great.Within you at this moment are beautiful dreams,and you can begin to live in the direction of those dreams whenever you choose.
  这是你所珍爱的'、独一无二的生活。为了让它变得更美好,经历困难、付出努力都是值得的。此刻,你的内心充满着美好的梦想,只要你选择,你就可以朝着梦想的方向生活。
  Let go of the false security of just getting by,and get yourself into focus on a purpose that will bring your life gloriously to life.Your very own pathway to success is just one quick step away.
  摒弃生活只要过得去就行这样的错误观点,全心投入一个目标——让你的生活更加精彩。成功之路离你仅一步之遥。
  英文短篇励志文章 篇4
  年轻,并非人生旅程的一段时光,也并非粉颊红唇和体魄的矫健。
  它是心灵中的一种状态,是头脑中的一个意念,是理性思维中的创造潜力,是情感活动中的一股勃勃的朝气,是人生春色深处的一缕东风。
  年轻,意味着甘愿放弃温馨浪漫的爱情去闯荡生活,意味着超越羞涩、怯懦和欲望的胆识与气质。而60岁的男人可能比20岁的小伙子更多地拥有这种胆识与气质。没有人仅仅因为时光的流逝而变得衰老,只是随着理想的毁灭,人类才出现了老人。
  岁月可以在皮肤上留下皱纹,却无法为灵魂刻上一丝痕迹。忧虑、恐惧、缺乏自信才使人佝偻于时间尘埃之中。
  无论是60岁还是16岁,每个人都会被未来所吸引,都会对人生竞争中的欢乐怀着孩子般无穷无尽的渴望。
  在你我心灵的深处,同样有一个无线电台,只要它不停地从人群中,从无限的时间中接受美好、希望、欢欣、勇气和力量的信息,你我就永远年轻。一旦这无线电台坍塌,你的心便会被玩世不恭和悲观失望的寒冷酷雪所覆盖,你便衰老了—即使你只有20岁。但如果这无线电台始终矗立在你心中,捕捉着每个乐观向上的电波,你便有希望超过年轻的80岁。
  所以只要勇于有梦,敢于追梦,勤于圆梦,我们就永远年轻!
  千万不要动不动就说自己老了,错误引导自己!年轻就是力量,有梦就有未来!
  英文全文如下:
  Youth is not a time of life; it is a state of mind.It is not a matter of rosy cheeks,red lips and supple knees.It is a matter of the will,a quality of the imagination,vigor of the emotions; it is the freshness of the deep spring of life.
  Youth means a temperamental predominance of courage over timidity,of the appetite for adventure over the love of ease.This often exits in a man of 60,more than a boy of 20.nobody grows merely by the number of years; we grow old by deserting our ideas.Years may wrinkle the skin,but to give up enthusiasm wrinkles the soul.Worry,fear,self-distrust1 bows the heart and turns the spirit back to dust.
  Whether 60 or 16,there is in every human being's heart the lure of wonders,the unfailing childlike appetite of what's next and the joy of the game of living.In the center of your heart and my heart there is a wireless station; so long as it receives messages of beauty,hope,cheer,courage and power from men and from infinite,so long as you are young.
  When the aerials are down,and your spirit is covered with the snows of cynicism and the ice of pessimism,then you've grown old,even at 20,but as long as your aerials are up,to catch waves of optimism,there's hope you may die young at 80.
  Youth is not a time of life; it is a state of mind.It is a matter of the will,a quality of the imagination,vigor of the emotions; it is the freshness of the deep spring of life.These are what I have and what we have at this period of life.So,I'm still young,yes,definitely ! Come on my fellow friends,show your energy and passion to this god damn world ! Let the universe hear our voice,see our cheek,hug our enthusiasm and witness our maturity.We're going to create a brand new future !
  英文短篇励志文章 篇5
  There are two friends together to go to distant places to find the happiness of life and happiness,on the way in time to reach the target will brave the wind and dew,and encountered a roaring waves of the sea,and the sea shore is happiness and joy of heaven,about how to live through the sea,two people have different views,a a suggestion of logging near trees caused a wooden boat to cross the sea,another is that no matter which cannot be got the sea crossing,and why bother with the dead,the current dry,and then easily walk.
  Then,proposed shipbuilding people every day to cut down trees,ships manufacturing hard and actively,and incidentally,learn to swim; and one day rest and sleep,then do not observe to the river sea.One day,when a friend of the ship was ready to sail out of the sea,another friend was still laughing at his stupidity.
  However,a friend of shipbuilding is not angry.Just before leaving,he said something to his friend:"to do everything is not always successful,but if you don't do everything,you will never get the chance to succeed."
  Can think of to do to lay seawater over the sea,this is indeed a great idea,but unfortunately,this is just a "great" doomed to failure and creative.
  The sea never dried up,and the friend of that shipyard finally reached the other side of the target after a storm.The two men later settled down on the two banks of the sea,and they also spawned many of their own descendants.One side of the sea is called the fertile land of happiness and happiness.We live in a group of people who are called diligent and courageous.The other side of the sea is called failure and loss,and live in a group of people we call lazy and cowardly.
  This story tells us:
  (one) it is better to stand up than to stand up by thinking.
  (two) no matter how long you have gone and how tired you are,do not lie down at the door of the "successful" home.
  (three) dreams are not fantasies.
  英文短篇励志文章 篇6
  Do not believe in your own will,never become a general.
  The Warring States era,a father and his son off to war.My father has done a general,his son was just a pawn.Also a horn sounded,the thunderous drums of war,my father solemnly hold a quiver,in which a flying arrow.Father solemnly said to his son:"this is a home attack treasure arrow,with the side,the power is infinite,but must not be drawn out."
  It is an extremely delicate quiver,making thick leather,with a faint light copper pan edge,look at the exposed end of the arrow.One eye can be identified with the finest peacock feathers.Son very happy,greedily suppose arrow,arrow shape,ear like whistling sound through arrow,the enemy's coach crashed off the horse and shoot.
  Sure enough,with Bao arrow son extraordinary bravery,invincible.When the horn sounded troops,the son again also could not help but victorious pride,completely abandoned his father's exhortations,driving his strong desire to call a pull-out Bao arrow,trying to see what happens.Suddenly he was stunned.
  A broken arrow,arrow bag filled with a broken arrow.
  I always scoop out the broken arrow only fight it! Son in a cold sweat,as if an instant loss of the pillars of the house,came the collapse of the will.
  The result is self-evident,the son died in the war.
  Misty smoke,the father picked up the arrow,heavily said:"I do not believe they will never do the general."
  The victory or defeat lies in a treasure arrow,how stupid,and when a person and handle the core of life to others,and how dangerous! For example,put their hopes in the children; the happiness depends on her husband; the life security lies in the unit body......
  Reminder:his is an arrow,if it tough,if it is sharp,if it archery,crack shot,sharpen it,it can only save yourself.
【英文短篇励志文章(通用6篇)】相关文章:
英文励志美文短篇11-29
高三励志短篇文章02-16
英文励志演讲稿加翻译短篇06-22
短篇英文励志演讲稿带翻译06-22
励志的短篇日志02-17
短篇励志哲理故事11-23
人生励志文章(通用16篇)01-19
销售文章励志文章06-03
短篇成长励志小故事11-27